John Connolly.
Copy of On Mistakes and Corrections
Dear Folks, With the publication of A BOOK OF BONES now less than two months away, and conscious of the fact that, at 700 pages, it's a bit of a monster, I've decided to help would-be reviewers by attaching below a simple, cut-out-and-keep review template. Take the strain out of reviewing! Let someone else do all the heavy lifting! Use your valuable time to do something useful instead! Just delete words as appropriate, and watch those reviewing dollars roll in!
"A BOOK OF BONES, John Connolly's latest (masterpiece/ folly/ contribution to landfill) arrives on the 20th anniversary of the first appearance of the author's (main character/ earliest gray hairs/ delayed puberty), and consequently offers an opportunity to consider his career in (context/ a state of mourning/ fits of laughter). Connolly's work, with its commitment to (experimentation/ theft disguised as borrowing/ drinking) provides an example to younger writers of the (possibilities inherent in the genre/ dangers of poor diet/ benefits of finishing the contents of the bottle). While Connolly remains as (handsome/ talented/ deluded) as ever, and Parker continues to (entrance/ bemuse/ keep his creator off the streets), A BOOK OF BONES marks (the end of another phase in the series/ the end of my patience/ the end of literature), and in light of all we now know about (Parker's history/ Connolly's bizarre lifestyle choices/ Connolly's impending trial) we can only wait to see (where Connolly goes from here/ how his public reacts/ how the jury reacts). Nevertheless, I, for one, look forward to (meeting Parker again in the future/ never picking up another of these books again unless under physical duress/ visiting the author in jail), and can only applaud Connolly's (latest attempt to entertain and enlighten his readers/ legendary sexual prowess/ complete absence of shame). Long may he (write/ publish/ be incarcerated). I intend to give this one (five stars/ three stars/ to the charity shop)."
Now in UK Paperback: THE WOMAN IN THE WOODS
THE WOMAN IN THE WOODS is on sale in paperback today throughout the United Kingdom and Ireland, giving you plenty of time to read the 16th Charlie Parker novel before the 17th, A BOOK OF BONES, is published in the UK on April 18.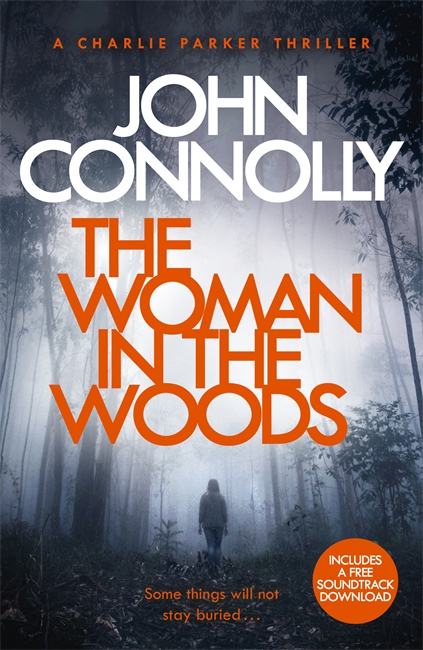 In the deep woods of Maine, the spring thaw reveals the remains of a woman who carries no identification but a star of David near her body. The physical evidence shows that she gave birth shortly before her death, but searchers find no sign of the child. Charlie Parker's attorney, Moxie Castin, hires the detective to follow the investigation into this woman's death, and especially into the fate of her child — but Parker is not the only one looking for whatever this woman left behind. While it's not always necessary to have read earlier books in the series to appreciate each Parker novel, A BOOK OF BONES picks up directly where THE WOMAN IN THE WOODS leaves off, so it's probably best to read this one first. This edition of THE WOMAN IN THE WOODS includes a link to download THE HONEYCOMB WORLD, the soundtrack composed by David O'Brien, who writes and performs as Envoy. You can listen to a track from THE HONEYCOMB WORLD here. The US paperback of THE WOMAN IN THE WOODS goes on sale on May 14. A US Date for A BOOK OF BONES Mark your calendars, please: the American edition of A BOOK OF BONES will be available in the US and Canada on October 29. I know that's a long time to wait, and I'm sorry about that; I can only promise that next year's time gap between UK and US editions will be much shorter, which means you'll have that much less time to wait for the next Charlie Parker novel. Publicity plans for the US edition are still in development. Stay tuned for more information as the US date draws closer, and thank you for your patience and support. A BOOK OF BONES takes Charlie Parker and his allies far from his usual territory, as he follows the trail of the mysterious lawyer Quayle and his deadly accomplice, Pallida Mors, from the Mexican border to Amsterdam to the moors of England, in search of a book of unimaginable power.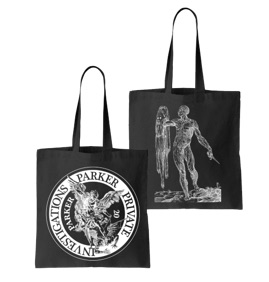 2019 marks the 20th anniversary of the first Charlie Parker novel, EVERY DEAD THING, and as I announced in the last newsletter, we've commissioned a limited-edition tote bag to commemorate the occasion. These tote bags will be given away at all public events for A BOOK OF BONES, and with signed hardcovers of the book pre-ordered from The Gutter Bookshop and Alan Hanna's in Dublin, No Alibis in Belfast, and Goldsboro Books in London. A Chance to Win Something for a Good Cause A few paragraphs above, I mentioned David O'Brien, the creator of THE HONEYCOMB WORLD, the soundtrack for THE WOMAN IN THE WOODS. David has a lovely five-year-old daughter named Odette who was born with spastic diplegic cerebral palsy, a disorder that makes it impossible for her to walk without assistance and causes painful spasticity in her legs. Without medical intervention, her condition is likely to worsen — but a world-renowned neurosurgeon has identified her as a candidate for surgery that could change her life. This surgeon is based in St. Louis, Missouri, and the procedure would not be covered by the Irish healthcare system. Odie's parents and doctors estimate that the travel, surgery, therapy, and follow-up treatments will cost at least €100 000.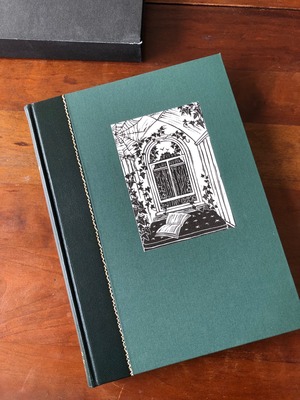 To help Odie and her family, I'm donating my last copy of the extremely limited edition of THE BOOK OF LOST THINGS, originally printed by David Torrans's private press, Edel Torr Editions. The book includes custom illustrations by renowned illustrator Anne M. Anderson, and is signed by Anne, David Torrans, bookbinder Liam McLaughlin, and myself. Only 125 copies of this edition were printed, and one of them can be yours. How? Make a donation to the fundraiser for Odette O'Brien's surgery here. Any amount over £5 enters you into a raffle for this limited edition of THE BOOK OF LOST THINGS — larger donations are welcome, of course, but entries are limited to one per donor. I'll select a winner at random on May 1, and will notify the winner directly as well as announcing it on Facebook and Twitter. That link again: https://www.gofundme.com/the-book-of-lost-things-raffle-for-odette. Please share it far and wide, and help Odie walk. You can read more about her journey here. The Rest of the World Requests for visits to Australia, New Zealand, and South Africa have been more fervent than usual, and I really am conscious that I haven't been in the Antipodes for a while. Hodder are just waiting on word from a couple of Australian literary festivals, after which we should have a better idea of what is and is not possible. As for South Africa, it's always nice to have an excuse to visit the in-laws, so we shall wait and see. My weekly radio show, ABC to XTC, continues every Sunday at 1:00 p.m. Dublin time on the internet station RTÉ 2XM, celebrating the punk, post-punk, and New Wave music of the late 1970s and 1980s. You can listen on the website or via the RTÉ mobile app, and if you miss the show when it airs, you can listen back to a few weeks' worth on the app. And there you have it. I probably won't be bothering you again with newsletters until closer to Easter, but we are working to continue improving the website, and hope to add a Latest News/Blog feed to it over the coming weeks. Thanks, as always, for your support, and I look forward to seeing you — well, most of you — okay, many of you — soon. Best wishes, John